Video of the 2018 Banos jam
In the beginning of this year 2019, we updated our Products' page of our website, following several products that have been launched or modified. By this way, thanks to Aurélien for this update.
Here we will find all the information about our new FUSION sprocket, of which our first batch is being machined ! Plus, we will also find our new tee shirt (short and long sleeves), made by Nitch BMX and featuring our brand new logo HISTORY.
Another update is coming, both for our Products' page and our website itself.
The new Shape bicycles sprocket - FUSION
We begin this year 2019 with the official launch of the new Shape bicycle sprocket, the FUSION ! After more than 10 prototypes machined by ourselves (from 23 to 41T) and one year of testing by our team riders and close friends (included two sprockets tested in UK and two others in the USA); we can give you more information about this new product Made in Brittany.
This sprocket has been designed on the basis of the Profile racing Sabre insert, allowing the assembly with 19 and 22mm spline cranks. However we decided not to keep possibility of screw assembly. In fact, the request for spline assembly is becoming more and more important, but also and mainly for a question of esthetics of our sprocket, keeping 5 identical and constant designs.
The FUSION is our most advanced machining sprocket, with our new 3D effect on the famous 5 branches of our original design. In addition, this sprocket is thicker in the center to fit the insert, so 8 millimeters of aluminum !
The FUSION sprocket will be available soon in 25, 28, 30, 33, 36, 39T (non standard : 23, 26, 37, 41 and 44T), normal or narrow teeth. About prices (insert included), 79,95E in polished version and 89,9E€ in black anodized version.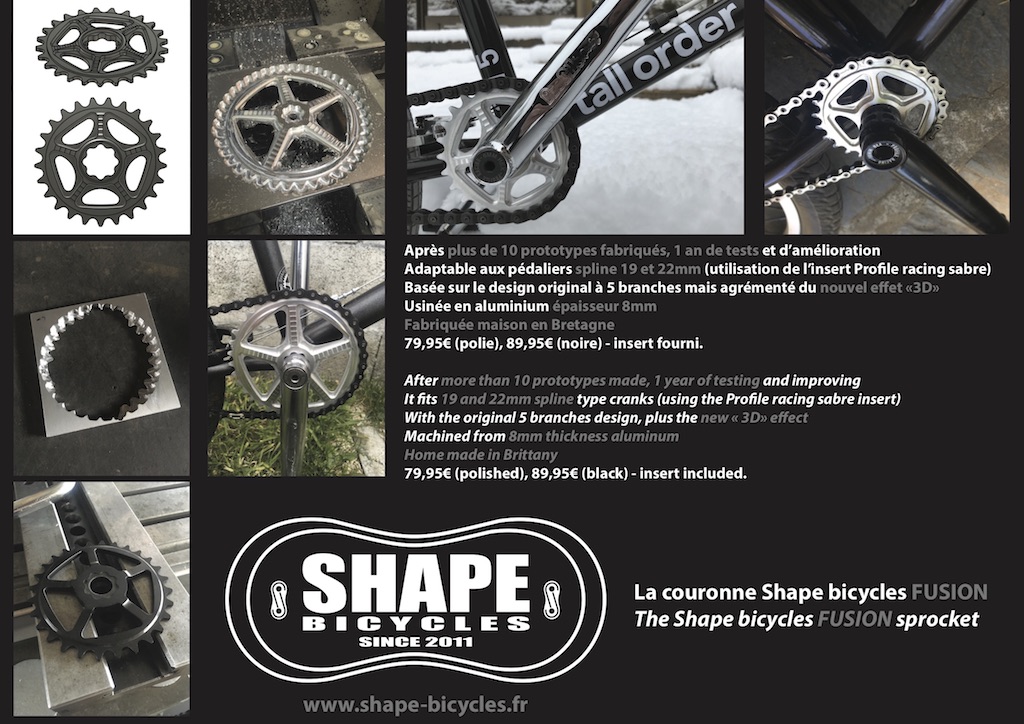 Villij trail - 2018 video
The 2018 trail season by PJ
Brian Foster - The blue falcon
New Shape bicycles tee shirt
As some of you have noticed on social media, we have received our new tee shirt model.
Thanks to the help of the famous trail rider Fred Borel, we realized this first batch of clothes with our new "History" logo. We selected models made of organic cotton (short and long sleeves)with screen printing for more longevity (previously we used flocking).
We will update our "Product" page as soon as possible, in order to give you all the information.
PA trip 2018 - GRO trail airlines
Villaroad video - Perfect level of Blazed