Best wishes from Shape bicycles
New Shape bicycles sprockets
We wanted to improve our famous product, our sprocket for a while.
So we changed the design and more importantly we added more machining area. As a result, each shape between branches has two different levels, giving a better and more sophisticated look.
We have just received a first batch of these new sprockets, available in 19 or 22mm or spline 19mm; at 57,50€ (69,90€ in spline).
In the same time, we still have some previous sprockets in stock, we make a special offer at 47,90€, feel free to contact us for more information.
The Bristol dancers - Brexit tour
Our friend of the Pumpy trail in Bristol, have just dropped a video of this year of riding, featuring the famous PJ, the funny Boyd, Josh and others friends from UK; as well as our French friend from Toulouse Pompom, who lives in Bristol.
Most of the video is filmed at their trail and at the Birch Woods; a second part is dedicated to their road trip in France in September, the Brexit tour!
Make yourself a cup of tea and enjoy this video.
Mutiny video - Villij trail
After our trail trip in UK this summer, Bruno and I are still very attracted by the Villij trail.
In fact, we stayed there several times, mainyl we shared very good moments with the locals (Robbo, Frog...), on the bike, around the fire or maintening the jumps.
A part of the Mutiny team (Matt Roe, Dylan Lewis) came to visit Robbo (Mutiny rider too) to discover his beautiful trail.
Below is the video of their trip.
+500 people follow Shape bicycles on instagram
2016 Shape bicycles tee shirts
The Brexit tour and La Source jam
La Source trail jam took place in Toulouse Last weekend, this place is famous and well known internationally. It was also the last stop of the Brexit tour, which went through many trails from Southwest of France, like Banos, Urkatu, Hoppy...etc. Here is a quick interview with our rider Bruno Abiven who was part of the whole trip "what are you highlights from the Brexit tour" : "Everything" ! Find below some photos taken by the famous PJ !
The last days of the Brexit tour were devoted to preparing the La Source trail, in order to help locals fxing the different lines, as well as in the general organization.
On my side, I arrived in Toulouse on Friday, in order to avoid queues and get my bearings quietly.
On saturday, the crowd came gradually, as alaways many nationalities were represented, most people were English; the different lines have been ridden throughout the day, more and more riders were riding the biggest line of the trail, Frelon !
The day ended with the famous party, completed with a concert held at the bottom of a landing of TIC line.
Bruno and I took the road early on sunday morning, to make the 8 hours drive which separated us from Brittany.
Once again, thanks to the locals for the jam and see you next year !
Shape bicycles and the 2016 Brexit tour
The 2016 Brexit tour is a Franco-English invention, taking advantage of the month of September and its several jams, but it's mainly an invasion of English riders (Woodyard, Pumpy, Brighouse…), who come to enjoy south west trails !
Two of the Shape bicycles riders will be part of this roadtrip, Bruno Abiven and Jérémy Muller. The first stop is planned at the Banos jam this weekend, then they will stop at various trails in the area before joining Toulouse for the la Source jam.
Have fun my friends and enjoy French baguettes, full English breakfast and not forget the Brexit (joke for my friends Boyd and PJ, photo below).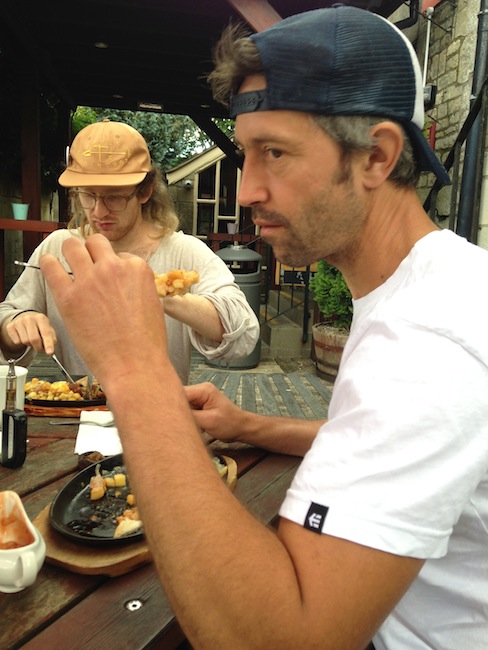 Welcome Jems Muller in the Shape bicycles family
We have not added a new member to the Shape family for a couple of years, so we are very proud and pleased to announce the arrival of our friend Jérémy Muller from Toulouse !
Jems is well known to the international trail scene, he is one of the main digger of La Source trail, without to forget his involvement in the project / crew Compression.
He recently joined the Deluxe team as well, he runs a PA model frame assembled with Shape bicycles parts (black top load OG stem with polish split cap, bar ends).
Welcome to Jems in the Shape bicycles team, you can find his profile in our Riders page.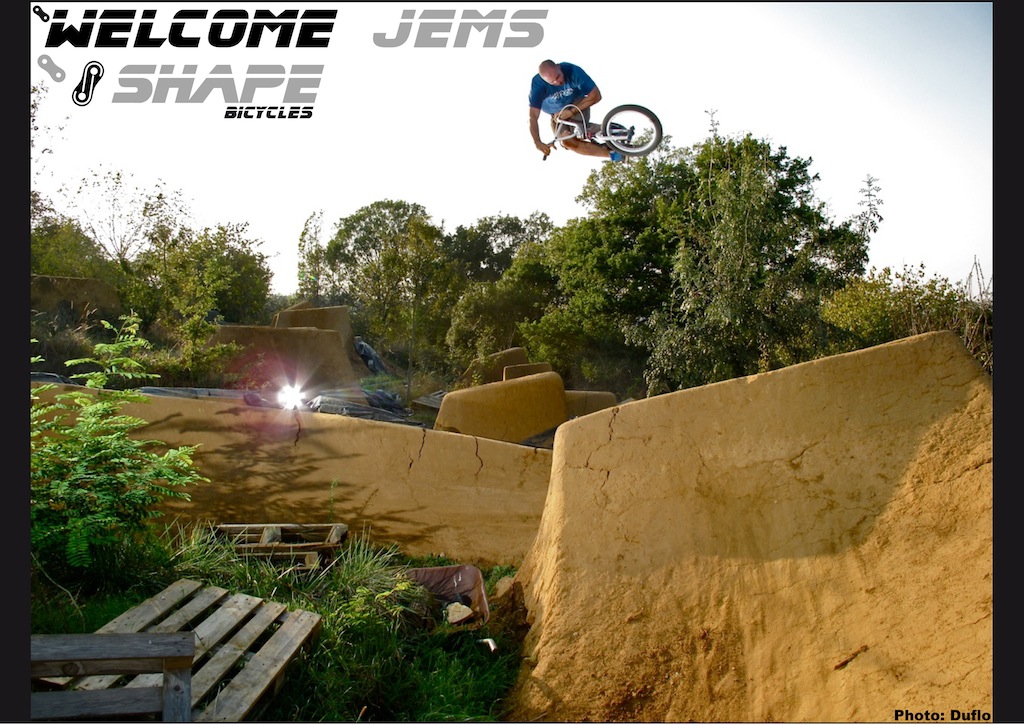 Report - UK Shape bicycles trail trip - 2016
After more than a week in UK, the Shape bicycles crew is back in France. This new stay overseas enabled us to still discover new trails and especially new areas which looks more countryside, like Leeds at the North, with beautiful landscapes.

Saturday, we arrived at Plymouth at 1.30pm, the crossing was quiet (more or lass for some…), we joined Bristol after a long 3 hours driving on the left ! First trail, the Pumpy where dig our friend Pompom, Alex Boyd who recently joins Bristol and the famous PJ Turn who is like the English Brian Foster (40 years old, still passionate and motivated, he is the main digger of the trail). After this warm-up session, we spent the evening among French, with Pompom and Céline, who have been living in UK for 2 years, it's always a pleasure to hang out together !

Sunday, we went to the PSA trail marmalade, with the Pumpy crew; on the road we made a stop to eat a full English breakfast, in order to be ready for the rest of the day (first one for Bruno) ! PSA is one of these famous English trails with a white dirt, which can be difficult to look at when sun shines, almost like snow. A good session on this tight trail, lots of lines with all sizes, there weren't lots of riders due to the saturday party. We really started the trip on good conditions !

Monday, no riding today, most locals were at work or they rest after a good weekend of riding. We took the opportunity to visit some trails on the South of London : Leatherhead is still beautiful, well arranged around the jumps; Epsom where all lines seem to ride; Hill and mountain and Wisley which are the sandy spots (a very nice hut and kind of an island were built at Wisley, look crazy) and Brockham which is in preparation for the jam next weekend (we took time to discuss with the main local - Jonny).

Tuesday, weather was typical English, se we decided to play it safe and spent the day at Adrenaline alley in Corby. On the road we made a stop at Woodyard, to discover the changes from winter, the whole trail looks better and better each year, it's beautiful ! We arrived at Corby in early afternoon (along with Jason Phelan), unfortunately much of the spot was in the works and there was an invasion of scooters… We rode on BMX the main bowl section, then we skated a mini ramp and a street plaza. We decided to hit the road for a much more interesting visit, the Villij trail ! We met Robbo and Frog, who benefit from the moisture to repair some jumps here and there, after lots sessions the previous weekend.

Wednesday, we spent the day at Villij, we maintained the trail in the morning, had a lunch with Robbo at his shop - The Kore store, a session was planed later in the afternoon. Despite the wind, we could have a ride and discover the trail, it turns a lot, not straight jump at all ! We were able to appreciate the riding of Robbo, high and stylish !

Thursday, we made some shopping at Villij in the morning, then we visited a close trail, which is made by the Wardle twins who spend lots of time digging as we noticed the several lines. A surprising detail is the fact the trail is located near a sort of natural cemetery (have a look at Google : natural burial). We then took the road to Brighouse and its famous trail. Trip was really countryside with lots of landscapes, trail takes place on a hill, in hidden wood. Weather was still typical English, we met Dan and Jon at the trail, we discussed a lot while watching the different lines. In the evening, we visited a good concrete bowl, where we tried to skate as there was a new scooter nightmare !!

Friday, we made a stop from our BMX agenda, to go to the pool, very relaxing, but you must also swim on the left ! In late afternoon, we went to Villij again, for another session with more locals as it's weekend. We were able to ride another line, longer and which turns even more than the previous one. Robbo and Frog rode all lines, it's beautiful to watch !

Saturday, we went to Wisley at 9am for an early season, as locals planned going to Brockham jam in the afternoon. Although trail is digging for MTB, we rode two main lines with the locals, we thank them a lot, especially Dig's who made the effort of saying few words in French ! Then we went back to Villij for a final session on the trail that has been our favorite during the trip. Several locals were there, we rode the same lines as before and Bruno decided to attack the big one, with taller jumps and steeper landings - he validated the whole line ! This session was a very good conclusion for this trip, we thank a lot Robbo and Frog for welcoming us several time during the week. After this good moment at Villij and these good feelings, we went to the South and the Poole's port to take the ferry on sunday morning - 8.30am.

This new Shape bicycles trip in UK was another success, the English trail is rich and enables us to discover new spots each time, we always meet good people and we discuss a lot with the locals !