Bruno had fun in snowboard
The shape bicycles manager received a very nice gift for his birthday, a new frame - S&M / Credence black magic, in order to build up a new trail machine !
This fact leads us up to talk about the Credence DVD "Live free of die" which came with the frame. We strongly advise you to buy this great video !!
The crew of Clint Reynolds (composed of Matty Aquizap, James Nutter), summarizes its trail trip in Australia and New-Zealand (beautiful images from PMP trail), its trip in the USA with several concrete bowls, and at least but not last Catty, Posh and Austin...
So, go buy this DVD and enjoy more than an hour of good riding, filmed by Stew Jonhson !
We have already talked about one of our suppliers - LG Tech, which is a company specialized in machining.
Over the years, we have created a close link with its owner - Benoît. Initially, he modified our products (ex: axle diameter on our sprocket); today he allows us to produce our prototypes. Benoît takes time to make the products we program ourselves on CAM (Computer Assisted Manufacturing).
Lately, we produced 5 Shape bicycles sprocket prototypes, for our riders as well as an English test rider. This design will be our futur model of the Shape bicycles range.
Thanks to Benoît and LG Tech !
PA trail trip - Video by Gillian
Bike check - Bérenger Cordier
Our rider Bérenger Corider sent us some photos of his new BMX which he just built up. He now rides with a Tall order frame, obviously assembled with Shape bicycles parts !
Bérenger rides with a top load OG stem with a one piece cap, at last but not least his signature giro tab. He also has a prototype of the next generation of sprocket - 25T (not the final design).
The Mowgly stem - Shape bicycles's Tribute

During the end of last year, the whole Shape bicycles team has worked together on designing a new top load stem. Based on an idea of Jeremy Muller, who wanted a higher model (+10mm compared to the OG top load) with a different design compared to the current Shape bicycles ones.
Within the creative process, we have been shocked and devastated to find out the passing of our friend Denis "Mowgly" Darbeau. Obviously deeply affected by his loss, we thought it would make sense to dedicate this stem as a tribute to his memory. So we named it the Mowgly stem and we decided to engrave his nickname around the steerer tube.
A first batch of prototypes will be machined early 2018. So, the Shape bicycles team riders will be able to test this new special stem and in the process, to keep alive the memory of our lost friend through their riding.
The travel of Jeremy Muller and Nathalie

Our rider Jeremy Muller and his girlfriend Nathalie have planned a trip of six months around the world, their main goal are the change of scenery and the discovery of different cultures; below the description of the trip by Jeremy :
"We take off on January 12th in direction of the South Island of New Zealand where I hope to be able to ride at Gorge road Trails and the spot of the FarmJam, unfortunately when the jam will be held, we will already heading to the North island of New Zealand to find some English friends and maybe ride the legendary PMP Trails.
Once the first month in New Zealand is complete, we will head to Perth in Western Australia, to take part of the HVT jam with our friends Glen, both Trav. Seb and meet the Cernotta brothers. At this point, we will be on the Australian territory for three months, taking the road on the South and East coast until Carins. We plan to ride at Adelaide with Ryan Lloys, Melbourne and Sidney to see our friends Beubeu, Podol, Dillsy, Will Kerr, Jimmy and eventually ride few spots on the way. Not forgetting to go to Tasmania and see the friends from Backbone in Canberra. Then we meet our friend Tim Weeks round Brisbane, he will guide us.
Then we go to Japan for a dozen of days and hopefully have a session with the Crawfish Satoski Enda.
Over the remaining two months, destinations will be Bali, Lombok, Gili, Sulawesi, Singapore and Sri Lanka. Not really bike riding planned on these countries.
Find below a map of their trip.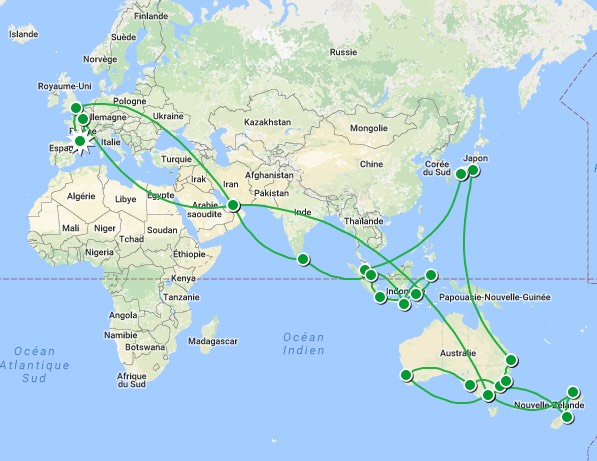 Villaroad video - The same bloody place