The signature tee shirt of Bruno Abiven is available
Some new about Jared Ball, after the birth of his daughter Caroline, Jared has picked up his shovel and his bike again. Summer is almost here, the Ball brothers have worked on their line in their parent's backyard; as a result sessions are back!
So, enjoy this video of one of their latest session with Ted Van Orman, video produced by Elliot Van Orman.
We are really pleased to announce you that an English BMX shop is now selling the Shape bicycles products ! In fact, Insanity BMX shop is about to open in the South west of England in the town of Taunton (not far from Exeter); they feel the need to offer something new to the English riders thanks to the Shape bicycles products.
Thank you to Justin @ Insanity for his insterest in our produtcts and feel free
to visit this new shop
.
New tee shirt and logo Bruno Abiven signature
A new signature product is going to be added to the Shape bicycles range, in the clothing one.
We designed with Bruno Abiven his tee shirt, creating a totally new logo and a new visual identity too. This tee shirt will be available in long sleeves and black only. Find further information on the BMX Union website.
Innovate in Brittany - Shape bicycles
Brittany is dynamic in term of projects as explained the "Innovate in Brittany" magazine each month. You can read
an article through their website about Shape bicycles
and the touch of innovation we give to our products.

Welcome to Caroline Robin Ball
Shape bicycles interview – Theline blog
Theline is a multidisciplinary blog (BMX, skate, surf, art…etc.), this is a source of various and relevant articles.
The line asked to Shape bicycles some questions through an interview about the brand itself and its future.
Take time to read our answers while having some exclusives about the next products of the brand!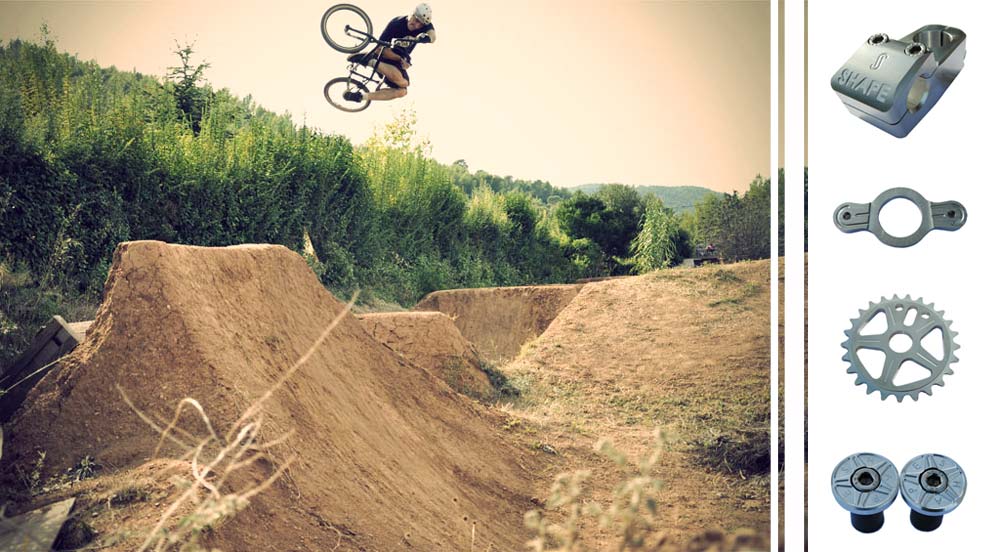 New issue of ART BMX magazine
Figuré BMX : the 1st issue is available
Shape bicycles – product manufacturing video
Shape bicycles keeps a close relationship with his manufacturers. Thanks to this proximity, we wanted to show you some images of the manufacturing of our products !
Enjoy this video to see the machining of our sprockets and the engraved stage of the stem.
Thank you to Grégory and Charles – our respective manufacturers to stems and sprockets, as well as Stéphane to make this video.